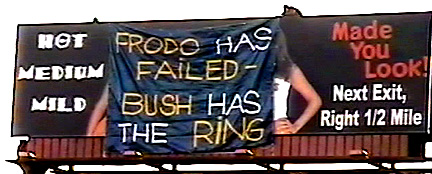 heh heh, made you look!
ANTI-WAR BANNER HUNG OVER BILLBOARD ON I-40 IN WEST KNOXVILLE
BANNER READS: FRODO HAS FAILED -- BUSH HAS THE RING
Knoxville, Tennessee, February 13, 2003 - Local Earth First! activists have hung a giant anti-war banner over an interstate billboard in west Knoxville this morning. The banner, which reads, ?Frodo has failed ? Bush has the ring!? was hung early this morning over a Hooter?s billboard in a plot of land between I-40, Gallaher View Road, and Kingston Pike.
Thousands of morning rush hour commuters headed eastbound on I-40 are expected to see the message. Two climbers are staying up on the billboard in an attempt to display the banner all day long as part of a nonviolent direct action against the impending war on Iraq. The activists also hope to advertise the rally against the war this Saturday at 11am at Morrell and Kingston Pike.
Call the Tromo billboard company, and ask them to please not press charges! (865) 539-1242