"She wants more on Moore," Letter to the Editor, to the Tennessean (Nashville)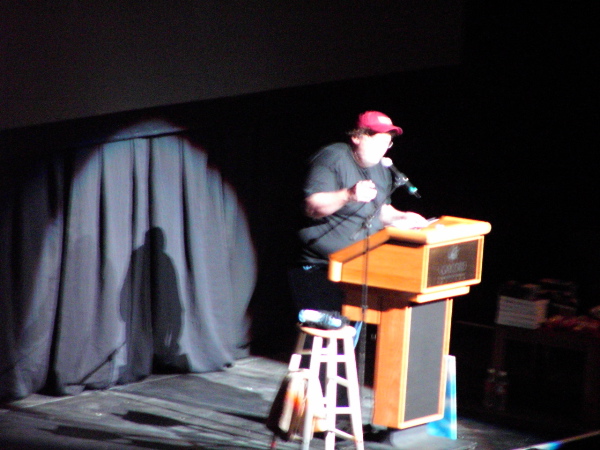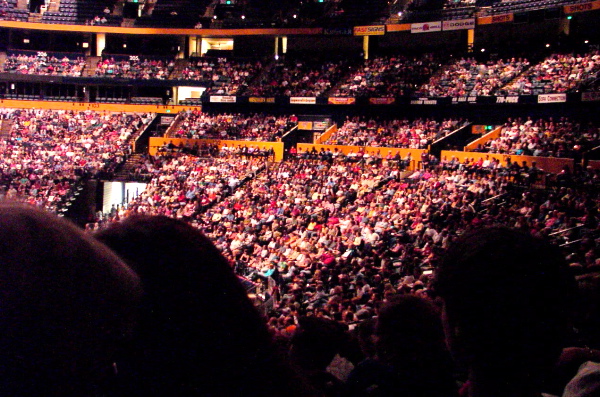 (this letter to the editor is in response to the Tennessean's coverage of Michael Moore's Slacker Uprising Tour event at the Gaylord Entertainment Center last nite here in Nashville. I attended with John and Barbara and Drew and their son Max who promises to be for the democrats an honest version of what Karl Rove is to the republicans. and Bill also went but we coouldn't find him in the crowd. good company!
See the news release -- oh, I mean the Tennessean story at :
http://tennessean.com/local/palm/archives/04/09/59400307.shtml?Element_ID=59400307
)
Did your staff writer, Natalia Mielczarek even attend Michael Moore's Slacker Uprising Tour event at the Gaylord Center? Because I don't think she did.
If she had actually been there, you might think it would be news that Nashville's own Steve Earle introduced Mr. Moore. You might think that it would be news that local Democratic leader Bob Touk movingly addressed the audience. It would have been nice to get a real count on tickets sold instead of a number pulled out of the clear blue sky. Mielczarek says 5,400 people were 'expected to attend.' Couldn't she even walk up to the ticket counter and ask someone? Couldn't she go inside and look around and make and estimate? Tthe curtained-off half arena holds 10,000 people and it was mostly filled -- you do the math.
Another interesting tidbit missed in her "report" was that Michael Moore unveiled for the first time here in Nashville a series of satiric ads based on the Swift Boat ads that will be available on michaelmoore.com. Also there was a pretty wonderful new country song unveiled, written by real Nashvillans calling themselves Honky Tonkers For Truth. The song is called I'm Takin' My Country Back and you can hear it on the radio and on their website, takinmycountryback.com. My favorite verse was the second:
I'M TAKIN' MY COUNTRY BACK
SON, YOU AIN'T BEEN DOIN' HER RIGHT
OH I BEEN WATCHIN' YOU AND I DON'T LIKE
HOW YOU'VE BEEN TREATIN' MY STARS AND STRIPES
YOU TOOK OUR JOBS AND SENT 'EM OVERSEAS
NOW WE OWE BILLIONS TO THE RED CHINESE
YOU BLEW THE BUDGET AND YOU BOTCHED IRAQ
SO I'M TAKIN' MY COUNTRY BACK
I'm going to go out on a limb here and assume your staff writer might be early in her career. Forget your responsibility to the public to report accurately, you should be demanding more of your staff. This story was mostly written from the press release. The one attempt to get an "on-the-ground" view of the event was to grab a quote from a protester. That is so lame. Is this reporter so young that her only experience of journalism is CNN and FOX News? Simply giving ink to a protester doesn't balance your story (especially given the fact that she didn't bother to get a quote from one of the "expected 5,400" supporters). You know what it does? It undermines your story. The subtext is that 'all these silly people came to see that rumpled film maker, but "real Nashvillans" think like the protester.' It gives the impression that the event was unimportant. It's the journalistic equivalent of the bored teenager's retort, "whatever."
Since your reporter either didn't get credentials for the event, or was too lazy, or too biased, I'm going to supply some quotes for you.
"We are being lied to, everyday," says Brook Hines a 38-year old marketing professional. "It was like being in church to see people actually speak the word, the truth. We are sending our sons and daughters to slaughter. We have created a cancer in the Middle East. They LIED to us. That SCARES me. Bush started something he can't fix. Now, it's everyone's responsibility to make it right," said the East Nashville resident and life-long Democrat.
Brook Hines
(I want to add one more thing to this letter that i didn't send to the Tennessean. This even was so cool to attend. We parked across the beautiful pedestrian bridge and walked over -- STRAIGHT to Gaylord. Walked right up, got tickets. Sat down with cool people all around. Got a really decent drink! The actually had grapefruit juice and vodka! AND a comfy smoking section where you could take your drink out side andd mingle. Damn cool!)