click on link to get your own!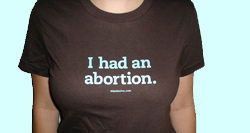 There's a new front in the battle for abortion rights – the literal front, that is, of a T-shirt designed by writer and feminist activist Jennifer Baumgardner that proclaims "I had an abortion." The shirt, initially for sale on Planned Parenthood's national web site and now available on Clamor magazine's web site, has generated controversy among not only the anti-abortion community but also pro-choice feminists.
Inspired in part by the bold irreverence of second-wave feminists, who circulated a petition proclaiming the fact of their own abortions and published it in the first issue of Ms., Baumgardner created the T-shirt in order to remove the stigma that relegates those who have had an abortion to shame and silence. The shirt is one component of a multipart project Baumgardner conceived to draw attention to women's experiences of abortion. Other elements of the project include a film that will debut at the anniversary of Roe v. Wade in January, featuring interviews with women who have had abortions; a guidebook to busting through the gridlock on the abortion debate, with a photo essay by Tara Todras-Whitehill, that will be published by Akashic Books; and the creation and distribution of resource cards that help women locate abortion services and obtain post-abortion counseling.
Only the shirt, however, has become a phenomenon. Because of its public nature, the tee has sparked a national response that neither Baumgardner nor Planned Parenthood anticipated.
"The shirt was always the least significant part of the project," Baumgardner says, explaining that she printed 500 shirts, mailing some to influential feminists and selling the rest at last April's March for Women's Lives in Washington, D.C. Soon afterward, Planned Parenthood offered to carry the shirt on their web site to "remind everyone that abortion policy affects real people," according to Gloria Feldt, president of the organization. When the Drudge Report posted a photograph of the shirt on its opening page, however, what a Planned Parenthood media representative termed a "media tsunami" soon followed.
click here for further discussion:
http://www.democraticunderground.com/discuss/duboard.php?az=show_mesg&forum=103&topic_id=96878&mesg_id=96878