(file this under He Ain't No New Messiah, but close enough for rock and roll)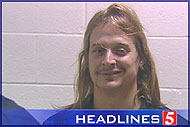 Police Arrest Kid Rock
First on NewsChannel5.com: Metro Police arrested musician Kid Rock who was accused of assaulting a DJ at a Nashville strip club early Wednesday morning.

An arrest warrant was issued for Robert Ritchie, 34, who's better known as rock singer Kid Rock, after a scuffle broke out at Christie's Cabaret, located on 8th Avenue South, around 3 a.m.

The fight with the club's DJ was over the music the DJ was playing, police said. The DJ, Jay Campos, was punched in the face, police said. He had a red mark on his face and his glasses were broken.

Kid Rock was booked through night court and his bond was set at $3,000. He asked reporters there to cover the story if his hair looked okay.

He posted bond and was released. As he left he said, "Everything is wonderful. It was a beautiful night."



Kid Rock was in Nashville to attend the funeral services of Merle Kilgore. Kid Rock performed at the funeral.

This story was first reported online on NewsChannel5.com.