PROTEST! tomorrow? yes, tomorrow in Nashville at the SOCIAL SECURITY OFFICE on Nolensville Pike
the TN Democratic Party is spreading the word about a direct action event at the Social Security office here in Nashville TOMORROW... that's Friday.
(just passing this along... i'll try to get out that way and snap some photos--brook)
________________________
This is our opportunity to tell President George W. Bush that we do not want him to take away our Social Security. President Bush will be in Little Rock, AR promoting his plan to privatize and dismantle Social Security as we know it. We want to send a clear message that Tennesseans will not accept this hollow rhetoric and sales pitch.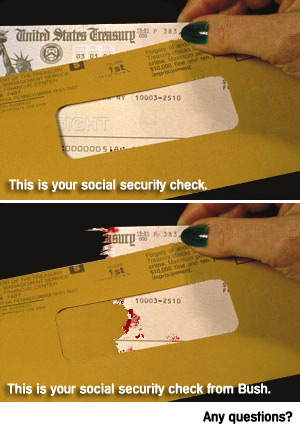 Join other democratic activists tomorrow, Friday, February 4th, to protest President Bush's sales pitch in Arkansas. We will be protesting this Social Security plan in front of the

Nashville Social Security Administration office on Nolensville Pike.
Please note the details of the protest below:
Date: Friday, February 4th

Time: 12:30-1:15pm
Location: 4527 Nolensville Pike, Nashville, TN 37211
(Parking is available in the Food Lion parking lot next to the Social Security office)
If you need more information, please call the Tennessee Democratic Party at 615-327-9779. We look forward to seeing you tomorrow, just look for the signs and you are more than welcome to bring homemade signs!!
Thank you!