another non-geopolitical post -- Astra hates me!
Regular readers know I have two dogs, Italian Greyhounds, and no children. "Boots Dunn Trouble" was a rescue from a wrecked semi-truck full of puppy mill dogs from Missouri. He came to us when we lost our beloved Mr. Chompers as the result of a careless pet sitter over Thanksgiving weekend a couple of years ago.
Mr. Chompers and Astra were my first dogs, having bought them from a breeder in the Tri-Cities.
When we go to the vet Trouble has a panic attack from the car ride (leftover anxiety from the truck crash) and Astra is a courageous trooper. On this vet trip Trouble had inflammation on his hind paws and Astra had a bump on her face.
Trouble gets all the attention at the vets' office. Every pretty girl within in earshot gets big baby hugs while Astra sits quietly getting no love. So we go in to see our wonderful Australian vet, Dr. Pryor and it turns out Trouble has athlete's foot and Astra has an absessed tooth. Trouble gets foot cream and Astra gets surgery. She hasn't talked to me since. I am persona non grata. Here's a pic from when Max and I picked her up after her surgery: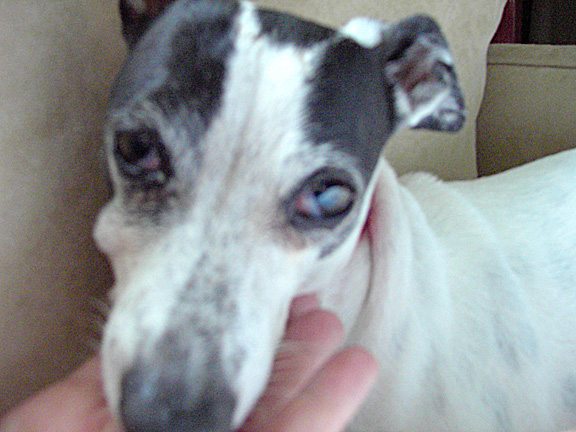 her eyes are all akimbo from the drugs they gave her. She was in a state of panic that was as close as to ecstasy as you will ever see a dog have. That was 2 days ago and she still hasn't eaten or given me much in the way of trust. Poor girl!