(much more at the link!)
"A Learjet belonging to the true owner of the Venice flight school
that trained both terrorist pilots who flew into the World Trade
Center was seized with more than 30 pounds of heroin onboard by Federal Agents in July of 2000 at the Orlando Executive Airport.
Authorities at the time called it the biggest seizure of heroin ever
found in central Florida.
The seized plane belonged to 70-year old Wallace J. Hilliard of
Naples, FL., multi-millionaire businessman, self-styled Mormon
Bishop, and the newly-discovered secret owner of Huffman Aviation at the Venice Airport since its purchase in 1999, just months before terrorists began arriving in force in Southwest Florida.
...
Both Governor Jeb Bush and Florida Secretary of State Katherine
Harris were providing celebrity endorsements to Hilliard's operation well after the company's Lear (N351WB) had been busted by DEA agents armed with machine guns.
Pretty poor advance work, at the very least...
One would think a sitting Governor seems well-advised to steer well clear of anything to do with heroin trafficking. Yet Governor Jeb Bush honored Hilliard's operation -- called at various times Florida Air, Sunrise Airlines and Discover Air -- with a personal visit, even posing for photos with the 'Discover Air family.'
(here's Jeb with his "Discover Air Family" who trained terrorists and whose planes were seized with 30 pounds of heroin aboard)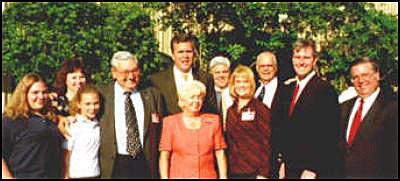 The company promptly commemorated the memorable event by posting pictures of the visit on their website.
Finally somebody in the Bush camp realized their lethal potential
exposure, and the webpage was hastily taken off the Discover Air site.