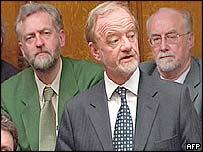 _____________________________
This morning I was discussing "issue framing" with a colleague and blew a gasket. why is there even a question of framing debates? there's truth and ficiton. period.
Robin Cook died on a walk with his wife yesterday. He was 59.
Here's excerpts of Robin Cook's resignation speech. Click on the link above to watch it.
_______________________________________
"Britain is being asked to embark on a war without agreement in any of the international bodies of which we are a leading partner - not NATO, not the European Union and, now, not the Security Council.
To end up in such diplomatic weakness is a serious reverse.
...
History will be astonished at the diplomatic miscalculations that led so quickly to the disintegration of that powerful coalition.
...
Our difficulty in getting support this time is that neither the international community nor the British public is persuaded that there is an urgent and compelling reason for this military action in Iraq.
The threshold for war should always be high.
...
... it is false to argue that only those who support war support our troops.
It is entirely legitimate to support our troops while seeking an alternative to the conflict that will put those troops at risk.
...
Iraq's military strength is now less than half its size than at the time of the last Gulf war.
Ironically, it is only because Iraq's military forces are so weak that we can even contemplate its invasion. Some advocates of conflict claim that Saddam's forces are so weak, so demoralised and so badly equipped that the war will be over in a few days.
We cannot base our military strategy on the assumption that Saddam is weak and at the same time justify pre-emptive action on the claim that he is a threat.
Iraq probably has no weapons of mass destruction in the commonly understood sense of the term - namely a credible device capable of being delivered against a strategic city target...
...Why is it now so urgent that we should take military action to disarm a military capacity that has been there for 20 years, and which we helped to create?
Why is it necessary to resort to war this week, while Saddam's ambition to complete his weapons programme is blocked by the presence of UN inspectors?
...
I have heard it said that Iraq has had not months but 12 years in which to complete disarmament, and that our patience is exhausted.
Yet it is more than 30 years since resolution 242 called on Israel to withdraw from the occupied territories.
We do not express the same impatience with the persistent refusal of Israel to comply.
...
What has come to trouble me most over past weeks is the suspicion that if the hanging chads in Florida had gone the other way and Al Gore had been elected, we would not now be about to commit British troops.
...
Nothing could better demonstrate that they are wrong than for this House to stop the commitment of troops in a war that has neither international agreement nor domestic support.
I intend to join those tomorrow night who will vote against military action now. It is for that reason, and for that reason alone, and with a heavy heart, that I resign from the government.