what can be done to help these people?
Name: JUSTIN DEES
Home: ***-***-****
Email: ------------
Subject: My Hurricane Story -- IMMEDIATE RESCUES NEEDED AT HOSPITAL
Story: MY FATHER IN LAW, DR. OSCAR BALLESTER, IS INSIDE UNIVERSITY HOSPITAL AT 1415/1430 TULANE AVENUE IN DOWNTOWN AND HAS REQUESTED IMMEDIATE RESCUE EFFORTS DUE TO THE HOSPITAL BEING COMPLETELY NON-FUNCTIONAL.
HE STATES THAT THE REPORTS THAT THE HOSPITAL IS FUNCTIONING IN ANY CAPACITY ARE COMPLETELY WRONG, THAT ALTHOUGH CHARITY HOSPITAL MAY BE IN DESPERATE NEED OF HELP, THIS HOSPITAL IS LOSING PATIENTS BY THE MINUTE AND IS DESPERATE NEED OF HELP. LIVES CAN BE SAVED IF RESCUE EFFORTS ARE DIRECTED TO THIS ADDRESS.
FURTHERMORE, DR. BALLESTER VOLUNTARILY STAYED TO HELP THE PATIENTS, AND UNFORTUNATELY, HE CURRENTLY FINDS HIMSELF IN A LIFE-THREATENING SITUATION AS HE IS AN INSULIN DEPENDENT DIABETIC AND IS STARTING TO "GO DOWN." PLEASE LET ALL (RESCUERS, RED CROSS, THE CITY) KNOW THAT THEY NEED HELP.
THANK ALL AND MAY HEALTH AND HUMAN SPIRIT PREVAIL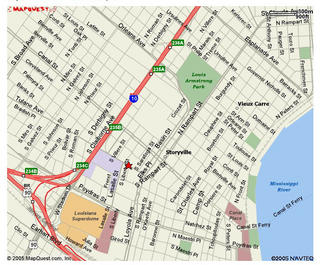 here's a map i pulled up of the address of the hospital that needs help.
in a place where people are swimming around their neighborhoods, what the hell? you know it's bad when a HOSPITAL has to send out an SOS on internet blogs. but here you have it. this is not a drill. this one's for real.