(this story has been kicking around and i meant to post it when it first broke but got distracted. it happens. enjoy this in all it's dystopic bushworldian excellence -- brook)
One week ago, the Office of Women's Health of the FDA "sent an e-mail notice to womens groups and others announcing the appointment of Norris Alderson as its new acting director."
Immediately, eyebrows were raised. Alderson was a Mike Brown-redux -- an "FDA veteran trained in animal husbandry who spent much of his career in the agency's Center for Veterinary Medicine":
Three days after the Alderson announcement, the FDA main press office sent out a very different announcement. It said that 20-year FDA veteran Theresa A. Toigo would be the new acting director of the women's health office... Alderson -- and the statement announcing his appointment -- was never mentioned.
Asked yesterday who exactly was running the office, FDA spokeswoman Suzanne Trevino said that Alderson had never been appointed acting director. She said that Toigo would take over from the departed Wood, and that her office knew nothing about the statement regarding Alderson, who is the agency's associate commissioner for science.
Alderson had never been appointed acting director? Then what explains this, on the Office of Women's Health website?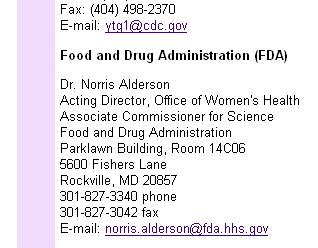 (P.S. It's since been deleted.)