check this out
"Go to Network Solutions, www.networksolutions.com and look up www.bushclintonkatrinafund.org.
" ... type in the name of this website or domain, as if you wished to reserve or purchase it. You will receive the message that it has already been taken, of course ..."
"Now, scroll to the place where you can learn more information about the owner of this domain."
"You will learn in the WHOIS Record that bushclintonkatrinafund.org was registered by the Bush-Clinton Katrina Fund, 55 W 125th Street, New York, NY 10027 US, and the record was created 02-Sep-2005, expiring on 02-Sep-2005.
"Now, scroll down further. Note the underlying registry data for this record. Here is what you will find:
IP Address: 198.65.50.185 (ARIN & RIPE IP search)
IP Location: US (UNITED STATES) - COLORADO-ENGLEWOOD
Y! Directory: See listings
Web Site Title: Welcome to the Bush-Clinton Katrina Fund Official Web Site
Data as of: 14-Jun-2005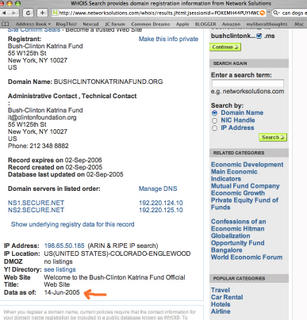 Does anyone here who's IP or IT savvy ... KNOW what this really means?
It LOOKS as if the "Bush/Clinton Katrina Fund" was established--
Two months BEFORE Katrina!!