everyone with a camera is needed in NOLA right now!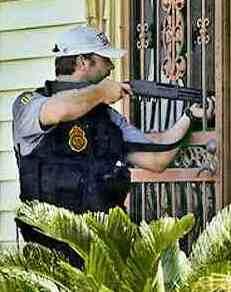 Witnesses with camcorders and digital cameras NEEDED NOW
Reply to: see below
Date: 2005-09-07, 2:02PM PDT
I was born in New Orleans.
I now live in Daly City.
My family evacuated to relative's homes in Oklahoma.
My father just called...he is in our old neighborhood...where he still lives, or maybe I should say lived...
He called to tell me that a Federal Agent just confiscated his camcorder and escorted him out of the neighborhood. He isn't sure what is going on..... except this...
FEMA and other Federal Agents are starting to remove anyone with a camera or camcorder. My father saw at least six people who had their cameras confiscated.
I am leaving tonight to go to New Orleans with a videographer. We, as families of the people in the storm's path, ask all documentarians, all professional photographers, all amateur and professional journalists to report to duty in New Orleans and throughout the storm ravaged areas. Don't let Bush stop the documentation of this tragedy. This monumental failure by the Bush Administration.
We need witnesses. We need documentation. We need to see, hear and understand the truth about this STORM and the response or lack of response to this disastor.
www.craigslist.org/sfc/pol/96042255.html