"The British government has learned that Saddam Hussein recently sought significant quantities of uranium from Africa."
This might seem like one little paragraph in the Chimperor's 2003 State of the Union address, but it's much more.
It's the beginning of the end.
The Bush Administration has been running a scam on us from the moment the last vote was cast in the 2000 election by The Renquist Court. The scam? Use the United State's vast power to steal oil and control wealth in the Middle East. Don't believe me? What's this?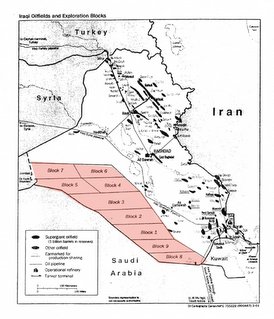 This is what Cheney doesn't want you to know about his SECRET Energy Task Force meetings in early 2001. I've come to think of it as a map of New Hubris.
Find the rest of Judicial Watch's Energy Task Force documents
here
.


This is what it was they compromised the Brewster-Jennings work on WMDs. It's never been about WMDs. It's been a good old resource war from the very beginning. There may well be a larger story with Plame and Brewster-Jennings. They might have known about our attempts to smuggle WMDs INTO IRAQ in order to keep the lie afloat. That's one theory. There's many more where that came from. You can come up with your own too.
This is far from over.