It poses a question...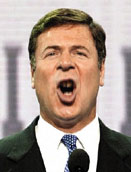 Recently Sen. George Allen (R-VA) is quoted as saying that he was "at a Gay Pride Festival in Philadelphia, and there was a peaceful group reciting verses from the Bible across the street. They were arrested for assault."
Ok, so if he wasn't arrested himself, and surely the dreaded liberal MSM would have reported that, it kinda makes you wonder what Sen. Allen was doing at a gay pride festival.......